AT&T has cleared the phone outage. The phones are working again at the affected sites: Mount Charleston, Johnson, Manse, PVHS, Floyd, and both Beatty Schools.

AT&T Outage: Parents & Guardians, AT&T is suffering an outage affecting a few of our schools. They are working to solve the issue. Until then, phones are down at the following locations: Mount Charleston, J.G. Johnson, Manse, PVHS, Floyd, and all Beatty schools.

Book Drive - TODAY - 10am to 2pm, free hot dogs, drive thru at the Nye Communities Coalition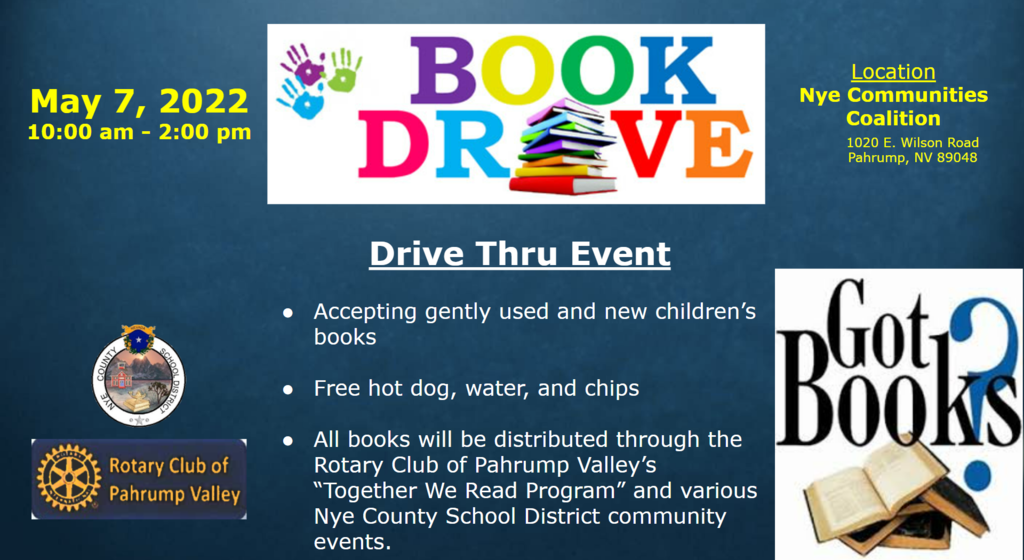 Book Drive - Saturday, May 7th, 10am to 2pm, free hot dogs, drive thru at the Nye Communities Coalition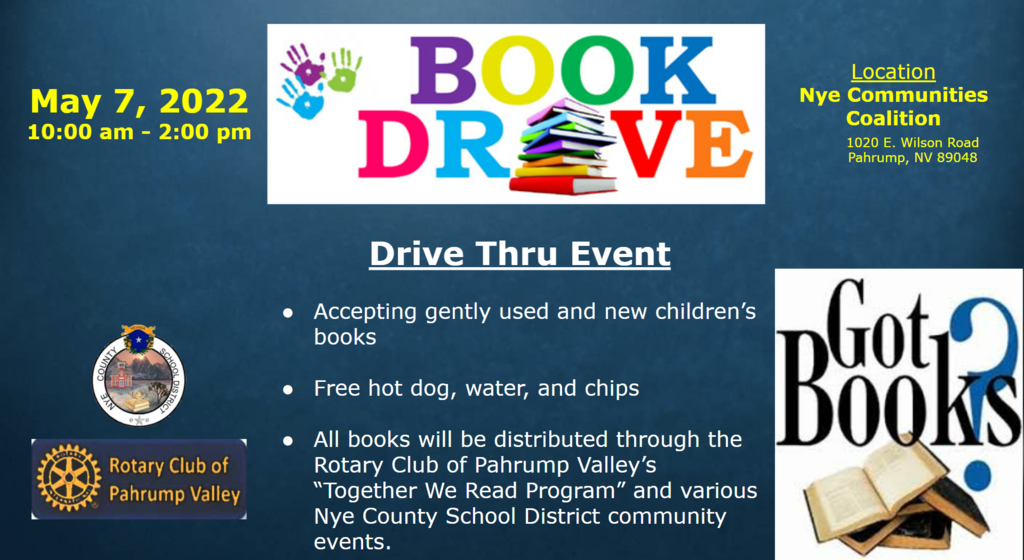 Book Drive - Saturday, May 7th, 10am to 2pm, NyE Communities Coalition. Free hot dogs.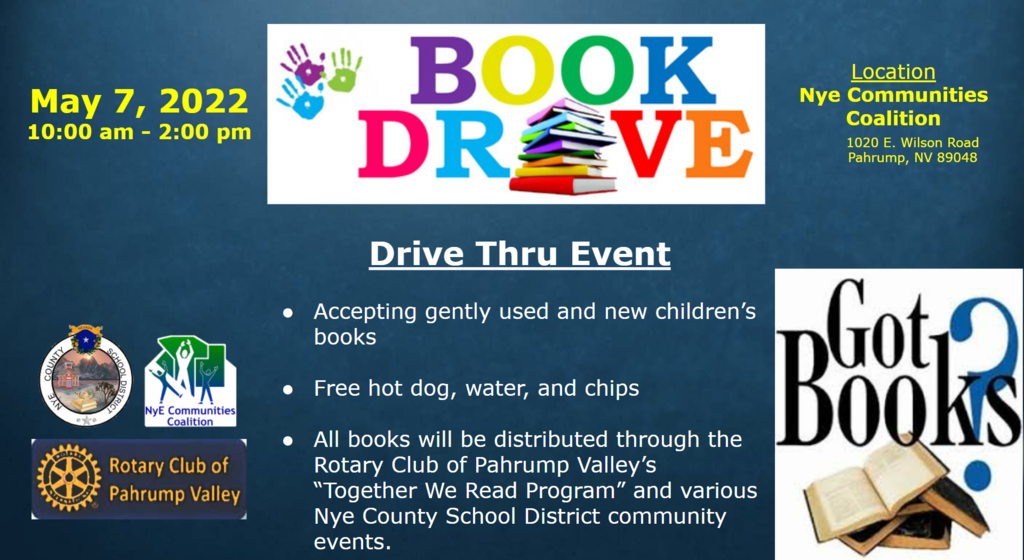 New state regulation changes the age requirement for kindergarten beginning for the 22/23 school year. Read more information here:
https://5il.co/13mtb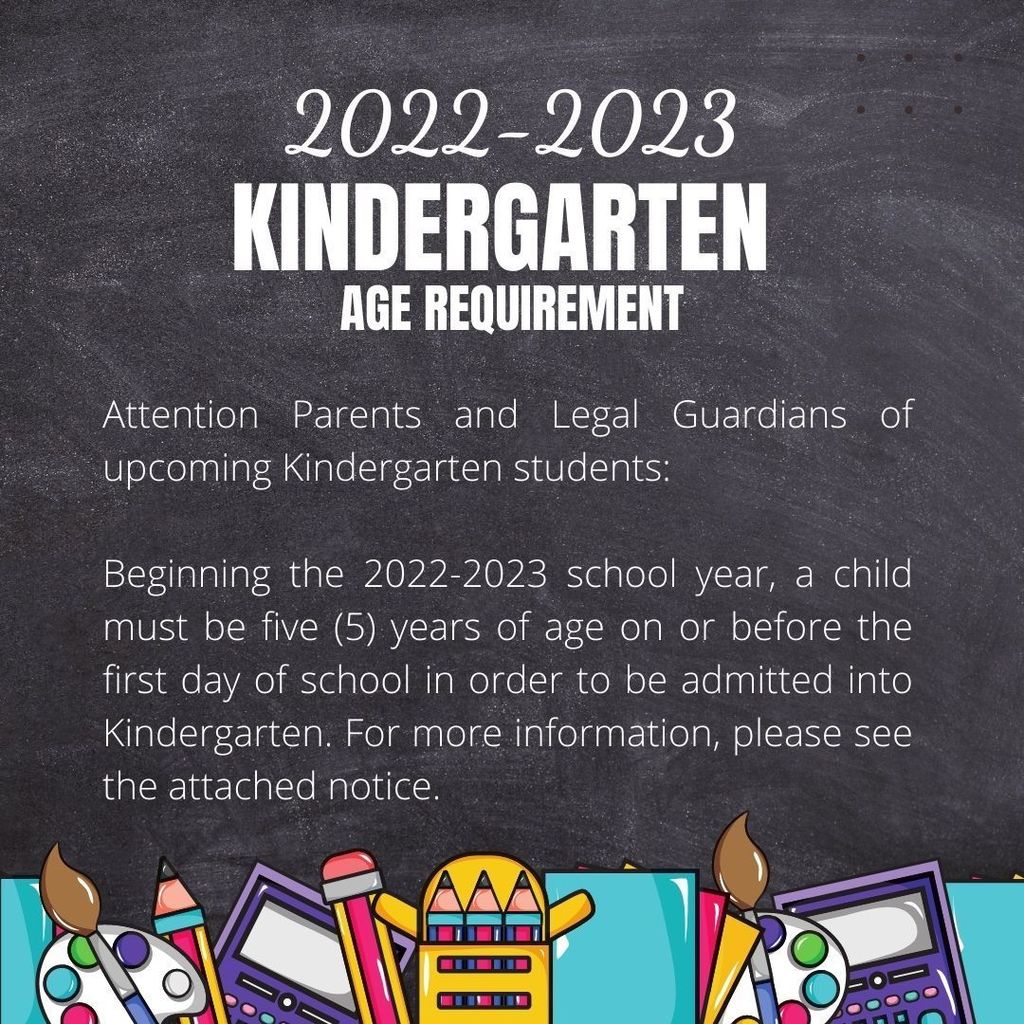 NCSD is considering three new publishers for Reading and Language Arts curriculum (K-12). The materials for all three are on display for public input at the Pahrump district office and each school site through January 7, 2022.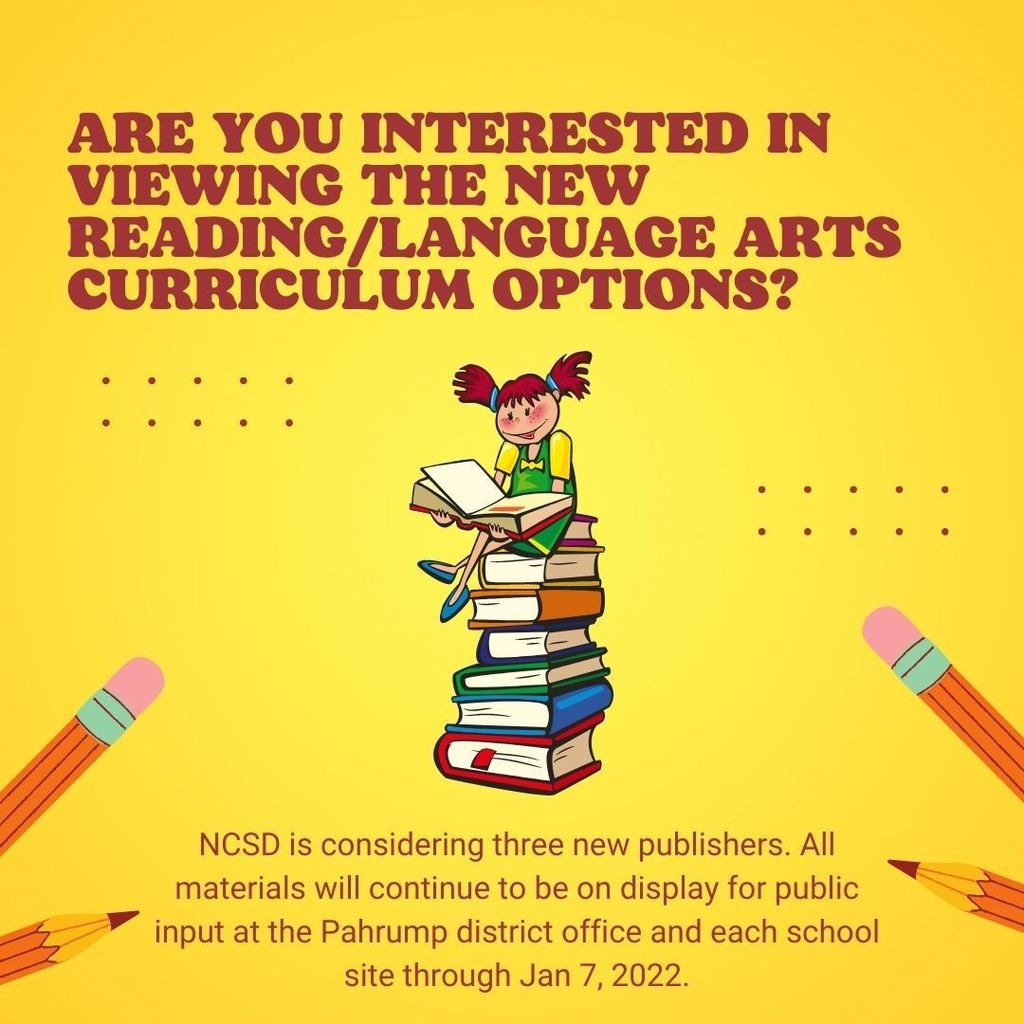 Pahrump Snow Day Update for Employees, 7:50 AM Custodians, Secretaries, and Administrators are to report to work. Teachers and support staff stay home.

Tues, January 26, 2021 - Pahrump Schools: A snow day has been called for students in Pahrump. Students in Pahrump will not have school today. At this time, school will proceed normally for students in other communities. Employees in Pahrump are asked to report to work if the roads from their home look clear. Communicate with supervisors if you cannot report.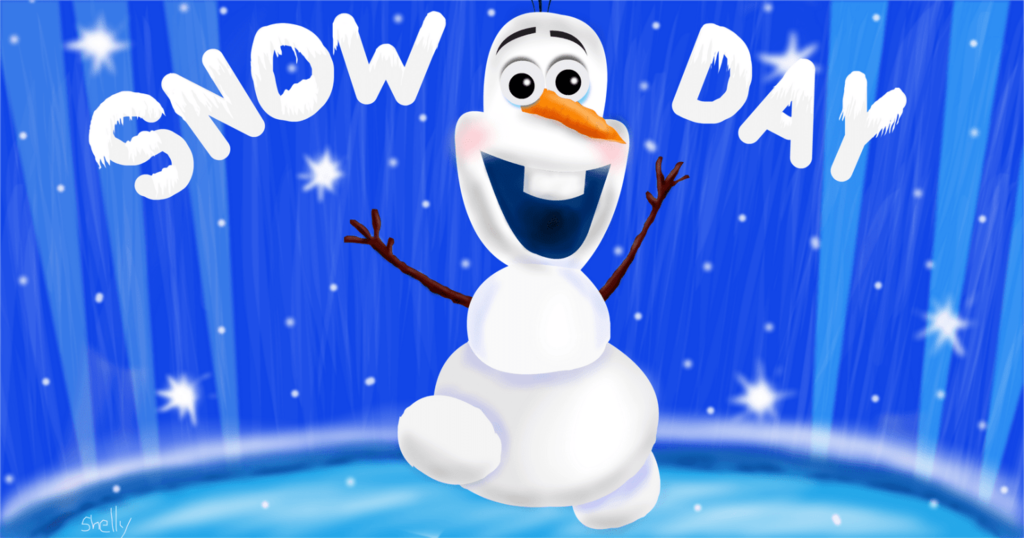 Greetings, Pre-K Families! As we anticipate the arrival of your children, we need to collect parent feedback on your preferred weekly schedule for the Pre-K 20/21 school year, set to begin on August 27th, 2020. Please take the following survey (one per student enrolled at Mt. Charleston) to choose your schedule preference. General Education:
https://forms.gle/frfD4ETxECPZyaccA
Special Education:
https://forms.gle/4H7mA9YS1yk97GfW9
Please contact the school if you need assistance or have any questions. Thank you for partnering with us in your child's education. With appreciation, The Mt. Charleston Administrative Team

Drive-thru Back to School Fair August 1, 2020, 8-10AM See this flyer for details:
https://5il.co/ipl1

Parent Engagement Survey:
https://bit.ly/2AF7u7N
Parents & Guardians, This is a six question yes/no survey that takes about 30 seconds to complete. We sent this out previously, but only received 80 responses. Please help us to collect this information for our Family Engagement team. Thank you,
https://bit.ly/2AF7u7N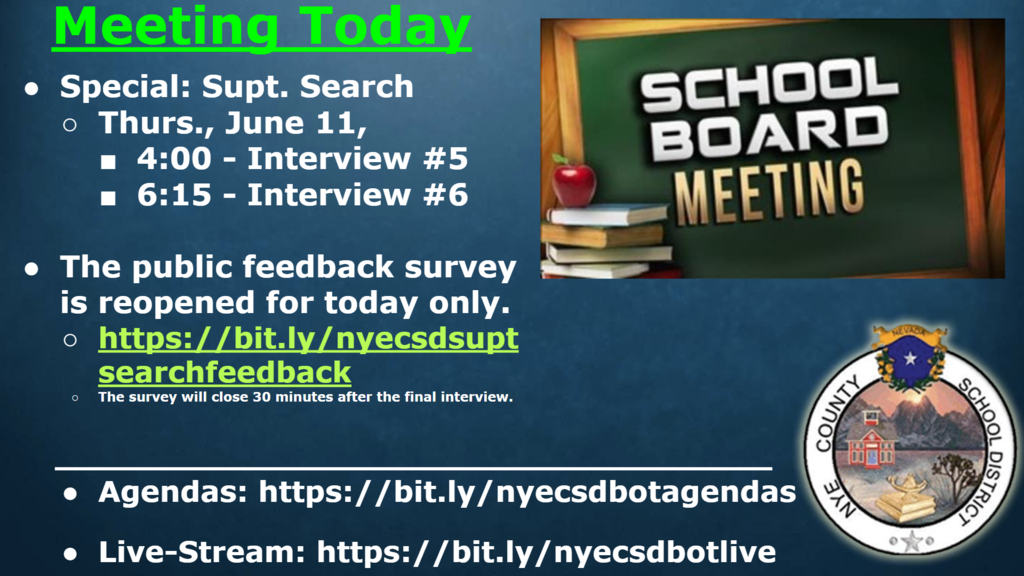 Parents, Guardians, and Community Members, We know you have been asked to fill out several surveys recently, but we would appreciate your attention to one more. This survey is meant to provide the grants department with guidance and data while writing for 20/21 grants, which will be critical for our operations in what is likely to be a challenging budget year. The survey contains 20 topics and asks you to rate each topic's importance to you and your satisfaction with district implementation. A blank response will be counted as not-applicable for you, so you are welcome to leave items blank. Please click here to take the survey: 
https://bit.ly/NyeGrantSurvey2020


Parent Engagement Survey:
https://bit.ly/2AF7u7N
Parents & Guardians, This is the same survey that we sent out at the beginning of the year on paper through the schools. Obviously, it was not possible to do the survey the same way at the end of the year. Our grants require that we issue this survey twice per year to get comparative data. Please take a few minutes to fill out the six questions. Thank you, -NCSD Grants & Family Engagement Dept.
https://bit.ly/2AF7u7N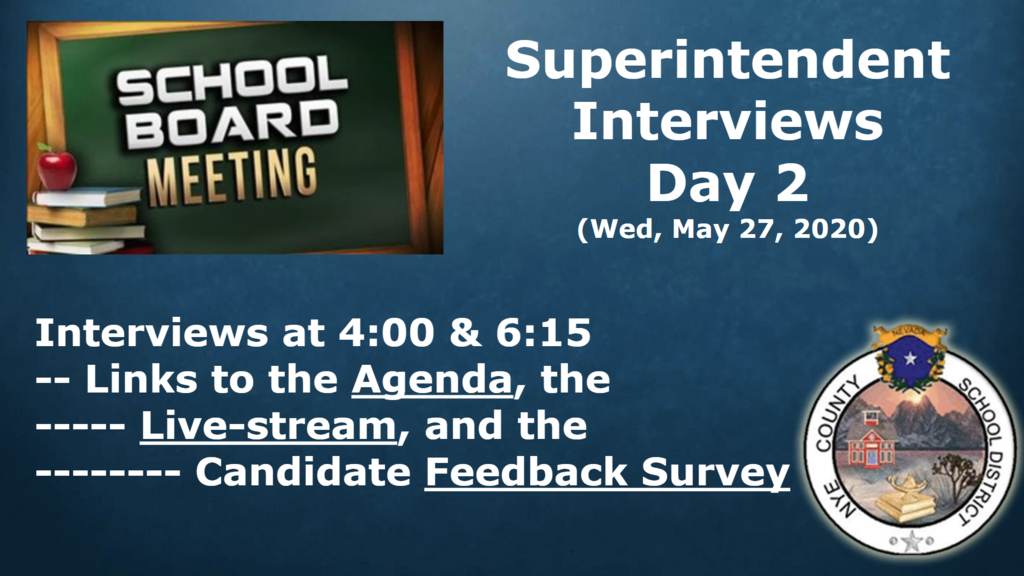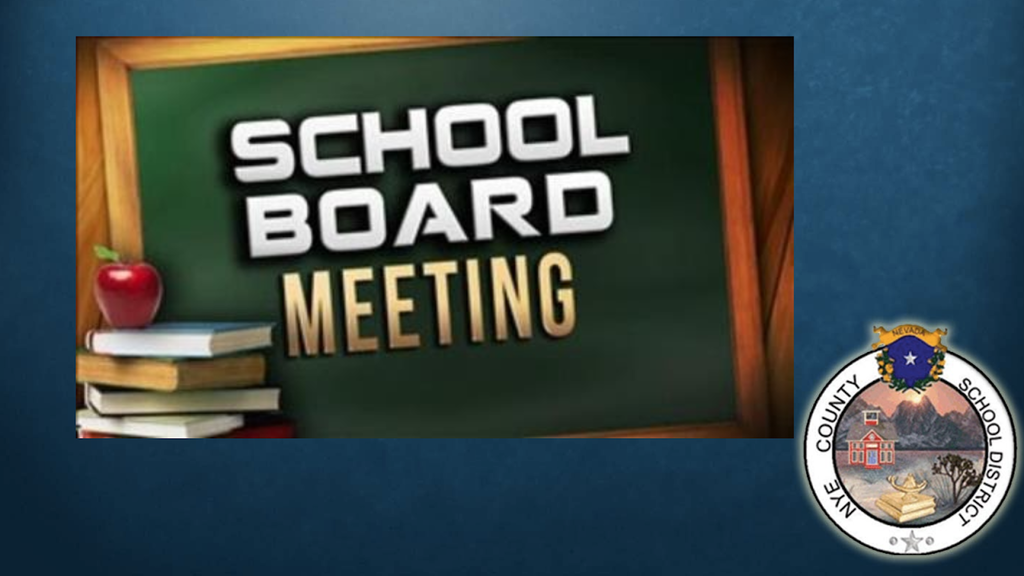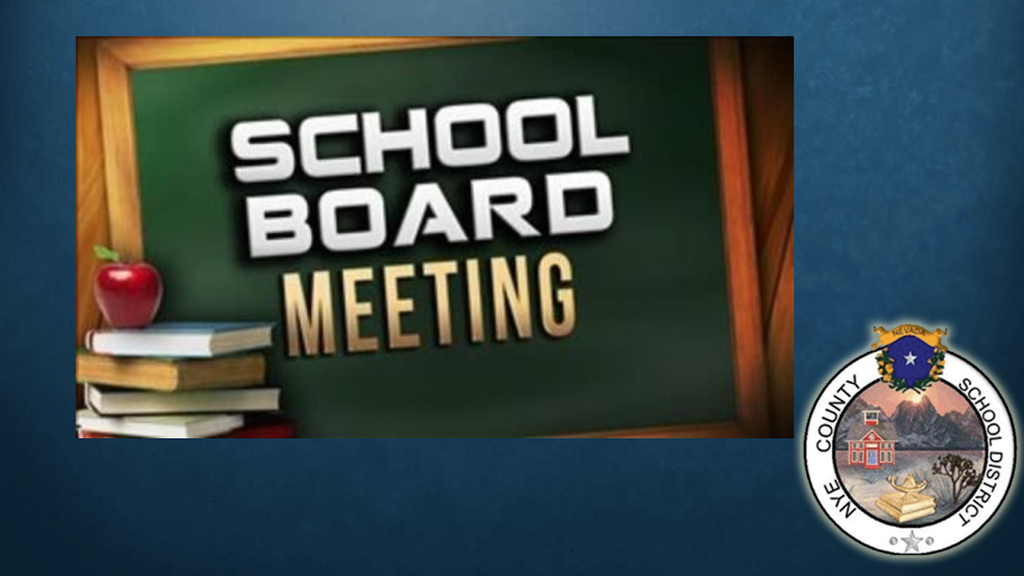 The Nye County School District appreciates the efforts of Local Pahrump (@news41) to support our students transitioning from 5th grade to middle school. However, the event they scheduled was not coordinated with any of the Pahrump schools and will create congestion with the schools' pick-up/drop-off schedules for personal and school items. While we are proud of our 5th grade students and sad to not be able to honor them with a clap out, we must inform you that this event is not school sponsored as NCSD is not authorized to coordinate any type of mass gathering on school campuses at this time.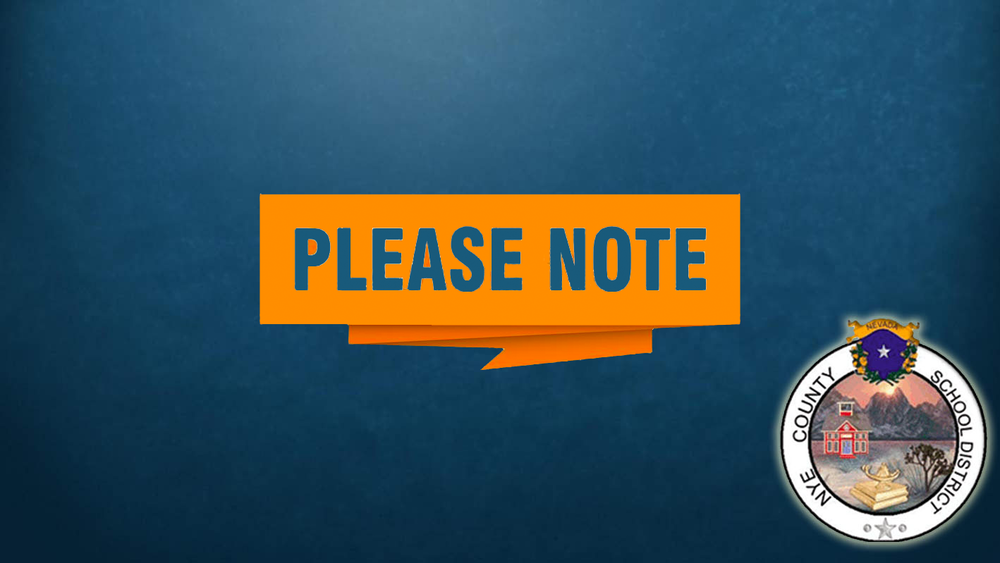 Parents & Guardians, please take this anonymous short survey with regard to COVID-19, school closures, and concerns for next school year.
https://bit.ly/NyeCSDParentSurvey19-1
The more input we get, the better we can address concerns. Thank you.